To help you create your best book, I offer a few different services and programs: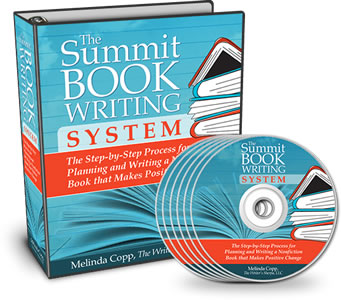 1. The Summit Book Writing Home Study System is the do-it-yourselfer's guide to planning, organizing, and writing a great nonfiction book. It contains ALL the basics of creating your sustainable writing schedule; getting clear about what your book is REALLY about; building the solid foundation of your book; writing a compelling, engaging book; and using your book to create raving fans and attract clients clients. You can find out more about this comprehensive home study system and get your copy here: The Summit Book Writing System.
2. I offer Book Plan Boot Camps for people who have lots of ideas of what they want their book to be about, but no idea how to put everything together into a compelling, cohesive manuscript that people will want to read. I guide participants through a step-by-step process of developing their best book idea and planning out an approach to the material that will meet their needs. In addition to interactive group training sessions, I give feedback on each participant's pages, and meet with them in one-on-one coaching sessions to discuss their personal challenges and questions. For more information and to apply, click here.
3. If you have completed your book manuscript, but you're unhappy with it and unsure about what to do to make it work, a detailed Book Assessment will help get you unstuck and moving forward. This service includes phone conversations about your goals, challenges, and concerns, and a detailed manuscript evaluation. I will read your manuscript, make comments within the draft, suggest edits, and provide a written critique designed to give you the exact steps you need to take to make your book exactly what you want it to be. For more information and to find out if this service is right for you, please click here to start the application process.
4. My one-on-one coaching programs are available for aspiring authors who are ready to do whatever it takes to get their book out of their head and out into the world, and who want personalized feedback and support as they write. My coaching services come in Basic and Premium three-month packages and include one-on-one phone calls, detailed critiques of everything you write, and weekly check-in times. For more information and to find out if one of my one-on-one coaching programs is right for you, please click here to apply for a get-acquainted session.
Your story deserves to be written...I'm here to help.